COVID-19 Antigen Rapid Test Device
COVID-19 Antigen Rapid Test Device
Product Information
Product Code: COV-19C25
Sample: Nasopharyngeal / Oropharyngeal secretions
Format: Cassette
Quantity: 25 Tests/Kit
Time to result: 15 minutes
Storage Condition: 2-30&degC/36-86&degF
Test Principle: Immunochromatographic Assay
Contents
Individually packed test devices
Extraction Buffer
Extraction tube
Nozzle with filter
Tube stand
Individually packed swabs
Package Insert
---
Product Description
The Rapid Response® COVID-19 Antigen Rapid Test is an in vitro immunochromatographic assay for the direct and qualitative detection of SARS-CoV-2 viral nucleoprotein antigens from nasopharyngeal secretions and oropharyngeal secretions from individuals suspected of COVID-19 within the first two weeks of symptom onset. The presence of a colored band in the test region indicates a positive result for the SARS-CoV-2 viral antigens, while its absence indicates a negative result. A colored band at the control region serves as a procedural control, indicating that the proper volume of specimen has been added and membrane wicking is working. Registered for sale in Brazil by ANVISA and in the European Union (CE-marked).
Rapid Response® COVID-19 Antigen Rapid Test
To watch step-by-step live demo, click here.
Clinical Performance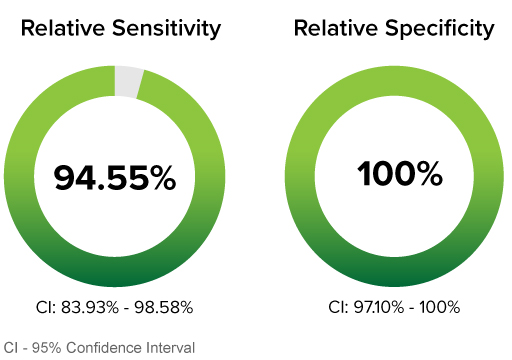 Video Links
Safety Information:
The test is for
in vitro
diagnostic use by laboratory and healthcare professionals only.
For information on purchase orders please contact your local sales representative or contact us at covid19@btnx.com or 1-888-339-9964.